UK economy is heading into a cooler autumn
Looking at the economy overall, there are growing indications that the UK economy has now achieved the vast majority of its recovery, even if the economy is still some -2.5% short of the level of GDP seen at the end of 2019 (ONS). Supply constraints are clearly a good deal less transitory than initially anticipated and while surveys such as that of purchasing managers are still positive, they are down from the heady figures seen at the start of the summer. The good news alongside this is that the latest ONS business conduct survey shows that employment levels continue to improve, and our forecast is that even with the end of the furlough program, we are unlikely to see unemployment rising above five percent anytime soon. More generally our expectation is that over the next few months a number of concerns that were at the forefront of people's minds before the Covid pandemic are going to re-emerge: from sluggish productivity, to putting in place a long term plan to deal with excessive debt, to inflation. For the Bank of England and people who are concerned with rates more generally, the key remains inflation. The Bank remains of the view that much of the 3.2% inflation reported for August is transitory (in particular the restaurant meals impacted by the base effect of Eat Out to Help Out), compounded by issues such as transportation bottle necks (which are fading more slowly than initially expected). But concerns remain, in particular that wage rises of 8% plus seen over the last two months prove to be stickier than anticipated.
The impending battle on the Monetary Policy Committee
In their most recent meeting the Bank of England Monetary Policy Committee voted unanimously to leave interest rates at 0.1% and the Bank will be continuing with its £895bn program of Quantitative Easing through to the year-end. In their previous August meeting, and in the absence of former BoE Chief Economist, Andy Haldane, we had seen Michael Saunders take up the hawkish mantle and vote to reduce the pace of the QE program. Saunders has now been joined by Dave Ramsden, although the BoE's new Chief Economist, Huw Pill, who is seen as potentially hawkish, for the moment agreed with the majority that the QE program should continue until the end of 2021. Undoubtedly both dissenters knew that they would be outvoted on this occasion, but they are keen to put down markers that monetary policy should be rebalanced over the course of 2022. Indeed the minutes of the meeting noted that modest tightening over the forecast period was likely to be necessary. A good number of commentators had been expecting this tightening (to 0.25%) to commence sometime in 2022, my view has been that any tightening looks more likely in mid-2022 at the latest, a view that is likely to be increasingly the consensus as the autumn progresses.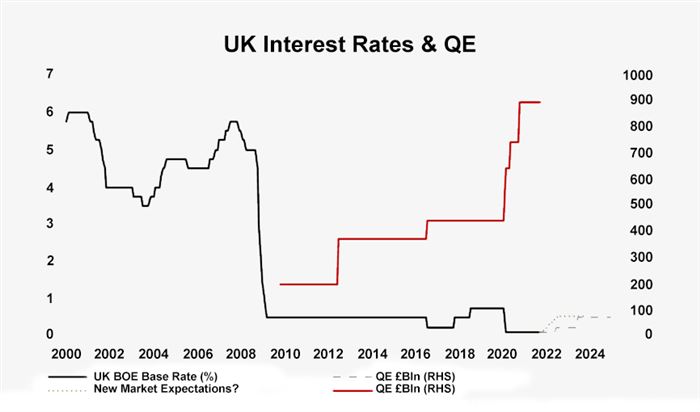 James Sproule, Chief Economist