Mortgages and lending
Our personal service aims to make the process smooth and stress-free for you
Mortgages
Whether you are looking to purchase your first home, move home or thinking about remortgaging to Handelsbanken, we can help find a mortgage that makes the process smooth and straightforward from start to finish.
We take time to understand your needs, goals and overall financial position to help find a solution to suit you. We can then help you throughout the entire process. You get a direct line to your dedicated account manager, who keeps you up to date, is proactive and makes sure everything is in order at each stage of the process. Key decisions are made within the branch by staff rather than a central computer, so you can be confident that your individual circumstances are taken into account.
What you'll get with a Handelsbanken mortgage:

All aspects of the application are handled locally at the branch, speeding up the process

Trusted local valuers with whom we have long term relationships
Expert advice from qualified, experienced bankers with local knowledge
We can consider mortgages including:

Mortgages into retirement
Income from multiple sources, including directorships
Rental income
Additional security considered
Meeting your mortgage needs
We offer a range of mortgages depending on your circumstances and requirements. Our experienced account managers will be happy to discuss your needs, and provide expert advice on a solution to suit you.
Become a customer
Find out more about becoming a Handelsbanken customer or call 0800 470 8000 to speak to our Customer Support team.
Become a customer
Already a customer
To know more, please speak to your account manager at your local branch.
Find your branch
Why we don't publish mortgage interest rates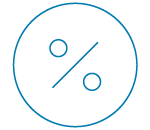 We work with every customer individually, taking into account their needs, and helping with a range of products and services. As part of this, we agree with each customer an individual tariff that reflects a relationship of mutual benefit.
Handelsbanken rates

Handelsbanken's current Standard Variable Rate* (HSVR) is 4.00%
Handelsbanken's Base Rate* is 1.00%
Please note these are purely reference rates. Your individual mortgage interest rate and term is agreed with your branch.


*The Handelsbanken Standard Variable Rate and Handelsbanken Base Rate are based on the bank's true cost of funding, rather than tracking the Bank of England Base Rate.
Personal lending
Looking for personal lending?
We can help you to borrow*, and make the process smooth and straightforward from start to finish.
For more information, please speak to your account manager.
*Depending on your circumstances and subject to eligible criteria, we may be able to assist you with personal borrowing.
Important information
Please note that personal lending is only available to persons 18 and over and is subject to status. Security may be required.
Important information
Please note that mortgages are only available to persons aged 18 or over and are subject to status.

Security will be required for mortgages. Suitable life cover may also be required for mortgages.
Your home is at risk if you do not keep up repayments on a mortgage or other loans secured on it.