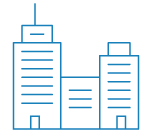 When you choose Handelsbanken as your banking partner, you can benefit from the personal attention of a dedicated account manager, who will take the time to understand your business and work with you to achieve your goals and ambitions.
We use local knowledge, and experience gained in the UK over 25 years, to help you find the optimal solutions for your business.
We have a range of loan products which may be appropriate to assist with capital investment, refinance of existing debt, business development or improving cashflow.
We will tailor the loan to your requirement – the structure and rate/fees will be based on specific circumstances and the nature of the security offered.